Angelina & Brad


So we took a sojourn to Swakopmund and Walvis Bay and were lucky enough not to bump into the paparazzi or worse still, Angelina & Brad. We did feel the wake of the celebrities as we indulged in the tourist activities like sandboarding, dune running, mountain biking, and local township tours. And talk about six degrees of separation, we stayed at a pilotís (friend) apartment whose instructor flew private tours for the Tomb Raider and Troy star. But who cares?

The Namibians do.
Thereís a good side and bad side to Hollywood in Namibia.

Bad:
1. They booked out a whole lodge, so those who had reservations months in advanced were kicked out.
2. Angelina booked out a whole ward at the hospital. Meaning, Namibians who needed treatment did not have access to that particular healthcare service. (selfish in my book).

Good:
1. They took a couple of township tours and donated a lot of money to the neighboring shanty town (projects).
2. Their visit is bringing a lot of tourist attention to Namibia. We heard that the Namibian Ambassador to the U.S. has been receiving a large volume of calls from interested Americans.
3. Angelina has stretchmarks and looks like an average person since her airbrush artist is unavailable.

In between Bradís quad biking excursions, the couples romantic strolls on the beach, donations to the people, and interest generation to the coastal towns and the country, they are just average people. Like you and me?

No comment.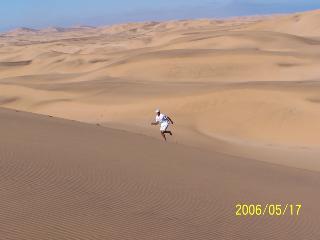 Running up the Dunes in search of Brad. We had an awesome "sandbox" outside our apartment in Swakopmund.