The Last Entry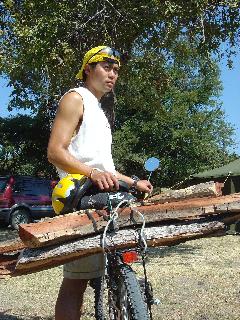 Our adventure in Southern Africa draws to a close as we wrap up loose ends in Livingstone, Zambia Ė selling the car, making sure there are no gaps in Kateís research data, buying African art to fill our suitcases (we leave behind anything that can help people here like clothes, flashlights, etc.).

Since my last blog update eons ago, Iíve learned to play the djembe drum, picked up whitewater kayaking in the Zambezi river, and cycled 900 miles from Namibia to Zambia. The cycle tour turned out to be the highlight of our Namibia stint, being lots of fun but more tiring than I imagined: I was shot at by the Namibian mafia (not fun), encountered elephants (wrong place at wrong time), stayed with the most amazing village people (no pun intended), had many mechanical problems (shitty Chinese bike) and met the nicest old ladies in cars who fed me cake, and men who gave me beers for my ride. A presentation on my cycle-related findings will be presented to the Turin-Evanston cycling community sometime in the FallÖso stay tuned.



Kayaking in The Zambezi

Being in Livingstone for the last few weeks has allowed me to reflect on my experiences here in comparison to the life I will be returning to in the States. In some ways Iíve become more cynical about my past life, more critical about the life Iíll be leading in the developed world, and less tolerant of social imbalances in general. When I first came here in October, I thought Iíd be leaving Africa with patience of a saint. Instead I leave with the intolerance of a devil.

We return to the States on Aug 20 and will be in Connecticut prior to returning to Illinois sometime in Sept. I would be most happy to rant some more over a beer. But first, I need to get a job.

See you all soon.