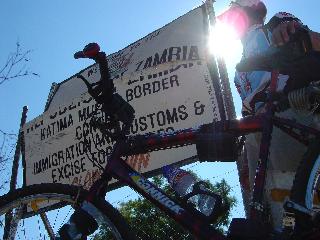 Almost a year has gone by and we're heading back to the States. I'll be walking through U.S. customs testing out the effectiveness of Homeland Security in about 24hrs. In the mean time you can check out my last update here in Africa in "Sean's Journal".

Thank you all for your audience these past several months. The blog has been an oasis of sanity.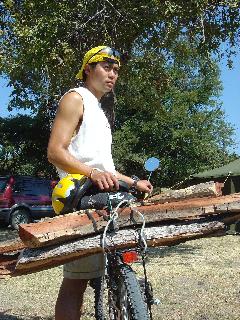 Our adventure in Southern Africa draws to a close as we wrap up loose ends in Livingstone, Zambia – selling the car, making sure there are no gaps in Kate's research data, buying African art to fill our suitcases (we leave behind anything that can help people here like clothes, flashlights, etc.).

Since my last blog update eons ago, I've learned to play the djembe drum, picked up whitewater kayaking in the Zambezi river, and cycled 900 miles from Namibia to Zambia. The cycle tour turned out to be the highlight of our Namibia stint, being lots of fun but more tiring than I imagined: I was shot at by the Namibian mafia (not fun), encountered elephants (wrong place at wrong time), stayed with the most amazing village people (no pun intended), had many mechanical problems (shitty Chinese bike) and met the nicest old ladies in cars who fed me cake, and men who gave me beers for my ride. A presentation on my cycle-related findings will be presented to the Turin-Evanston cycling community sometime in the Fall…so stay tuned.



Kayaking in The Zambezi

Being in Livingstone for the last few weeks has allowed me to reflect on my experiences here in comparison to the life I will be returning to in the States. In some ways I've become more cynical about my past life, more critical about the life I'll be leading in the developed world, and less tolerant of social imbalances in general. When I first came here in October, I thought I'd be leaving Africa with patience of a saint. Instead I leave with the intolerance of a devil.

We return to the States on Aug 20 and will be in Connecticut prior to returning to Illinois sometime in Sept. I would be most happy to rant some more over a beer. But first, I need to get a job.

See you all soon.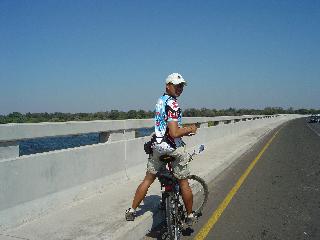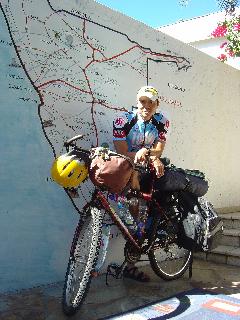 (below is the press release that was sent to Singapore Newspaper)

WALVIS BAY, NAMIBIA –Sean de Luna, former National Golfer and South East Asian Games Silver Medalist, will embark on a cycling odyssey of 2,000km from Windhoek, Namibia to Lusaka, Zambia. The objectives of his southern African bicycle safari are to (1) conduct an African cycling ethnography, and (2) be the first Singaporean to pedal Southern Africa—unsupported.

De Luna's trip will begin in Windhoek, Namibia, head north into the Caprivi Strip Game Reserve, cross into Botswana's Chobe National Park, and then cool off at Victoria Falls Livingstone, Zambia before heading north to Lusaka, Zambia. During his journey, he will conduct ethnographic research by interviewing and photographing locals to learn how they use their bicycles. At night, he will camp in either the African bush, exposed to the abundant wildlife or in campsites, where the hot showers will be a welcome comfort. The two-wheel, manual-powered, adventure will begin on May 30 and will take approximately 20 days.

De Luna will be the first Singaporean to undertake the 2000km trip solo. "I know my NS training will come in handy," elaborates Sean. "I want to show that Singaporeans can do extreme endurance adventures, too. We've already been up to Everest. So why not pedal Southern Africa and conquer the elements? I'll freeze my butt off at night in the desert and sweat during the day…and if you're interested in learning about how a Singaporean fares with the flora and fauna, stay tuned…"

De Luna's trip has been almost entirely equipped with the generic bike parts and camping gear available to Africans. The bicycle is a used, rickety, Chinese machine very different from the high performance Trek, Gary Fisher, or Specialized brands mountain bikers are accustomed to. The luggage/panniers are backpacks rigged to fit on a rear bike rack. Accessories are attached to the bike via rubber, tape, or string. In fact, the only high-tech equipment he carries is a digital video camera, cellphone, GPS, and the moisture-management race jersey donated by a Chicago-based bike shop that is helping to sponsor the trip.

"In using a local bicycle and accessories (products typically available to Africans) I must improvise on and off the bike; it helps me appreciate the creativity and resourcefulness of the African people who use the bicycle as a primary mode of transport and as a tool that's key to their livelihood," said de Luna. "It makes my interviewing easier, and besides, it's not all about the bike…it's about those who ride it."

World media has been focused on Namibia as Angelina Jolie and Brad Pitt expect their baby in the desert country. Tourism and interest into Namibia has skyrocketed, but for Sean, it has had a reverse effect. "This trip will be a welcome escape from the Hollywood celebrity fuss I've seen," chuckles Sean. "With a level head and some luck, I hope to be finishing this adventure safely with my own blockbusters to tell my grandkids when they start riding their bikes.

Stay tuned for your own hometown Singaporean box-office hit.

###
Namibia is home for many black Africans. But adhering to Paretto's Principle (the 80/20 rule), Namibia's wealth is predominantly wrapped up within the white population. It makes sense, as many white Germans, Afrikaans, and the odd Brit settled here and assumed positions of influence and power (think of them as residual trash from the colonial time period) after they wiped out masses of black tribes (including during the Herero massacre, one of the worst genocides of the 1900s).

It was only in 1990 when Namibia won its independence from South Africa. So technically, it was in 1990 when apartheid "officially" ended. So really, till the early '90s, the white population in Namibia was legally "superior" to the blacks and justified in feeling so. We all know racism doesn't end with a date. And we can see it continue today.

Even as an Asian traveling in Namibia you are treated differently than if you were white when you walk into a store. Kate is white. And I notice the difference in treatment between us. Kate sums it up best:

"If you are white, they talk to you like friendship could be an option if they got to know you. If you are non-white, they provide you the service for the sheer purpose of the economic transaction, i.e., they want your business, but not friendship."

If you are black…good luck.

Hopefully, as the older, more stubborn generation passes on, the younger, more tolerant professionals will be more accepting. I know racism exists in the States. But it is more subtle. America has had more time for the race issue to evolve into something more comfortable since the civil rights movement. Given time, I'm sure Namibia will be the same.



Color doesn't matter when you drink enough.


So we took a sojourn to Swakopmund and Walvis Bay and were lucky enough not to bump into the paparazzi or worse still, Angelina & Brad. We did feel the wake of the celebrities as we indulged in the tourist activities like sandboarding, dune running, mountain biking, and local township tours. And talk about six degrees of separation, we stayed at a pilot's (friend) apartment whose instructor flew private tours for the Tomb Raider and Troy star. But who cares?

The Namibians do.
There's a good side and bad side to Hollywood in Namibia.

Bad:
1. They booked out a whole lodge, so those who had reservations months in advanced were kicked out.
2. Angelina booked out a whole ward at the hospital. Meaning, Namibians who needed treatment did not have access to that particular healthcare service. (selfish in my book).

Good:
1. They took a couple of township tours and donated a lot of money to the neighboring shanty town (projects).
2. Their visit is bringing a lot of tourist attention to Namibia. We heard that the Namibian Ambassador to the U.S. has been receiving a large volume of calls from interested Americans.
3. Angelina has stretchmarks and looks like an average person since her airbrush artist is unavailable.

In between Brad's quad biking excursions, the couples romantic strolls on the beach, donations to the people, and interest generation to the coastal towns and the country, they are just average people. Like you and me?

No comment.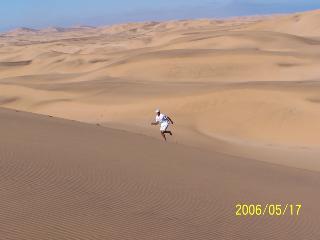 Running up the Dunes in search of Brad. We had an awesome "sandbox" outside our apartment in Swakopmund.
Traveling you meet a lot of people. You hear many perspectives on America. One such comment that struck me was how America is a place where a person could really indulge in any interest to the extreme. For example, if your hobby was airplanes, the sky's the limit. Cycling, you have access to all terrain and all the gear. Food, well our obesity rate speaks for us.

The point is, America has such a consumer culture unlike any other part of the world that we have access to any material, or knowledge needed to pursue our wildest interests, or career dreams. Your desires are your focus. Satisfaction focuses on You.

Is there a drawback? Perhaps. Only if you think individualism is bad. And if you don't bother to weigh individualism against the value the community at large. Such a delicate balance doesn't seem to have been struck in America. "Lucky us" or "Lucky me"?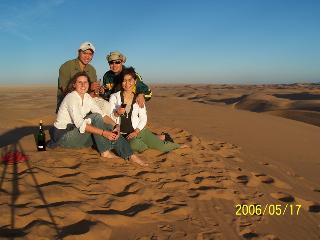 Our friends from the States enjoying the dunes at Swakopmund.


Observations on the African business world

In the American corporate world we use corporate accounts to justify client lunches, dinners, and outings as relationship-building tactics to get more business or increase profits.

In Africa, things, as usual, work differently. Lunches, dinners, and outings on a corporate tab are usually conducted simply to make sure the job contracted gets done. Let me repeat that: extra money is spent wining and dining to make sure a job is done satisfactorily. That's like a client throwing football tickets and expensive lunches and dinners to its ad agency to create an above average ad campaign (on top of paying them the project fee or retainer). There is a basic understanding between the parties that the business relationship will be strengthen during the contractual period so that the job gets done.

There is a reason for this.

Africa puts more importance on relationships than on the consumption of things. In other words, people are more important than things. Things, in African culture generally and in the village especially, are usually shared so there is less emphasis on the idea of ownership than in the west. That is not to say that there is no ownership; rather, there is more sharing so ownership is less obvious in the first place. Meaning, I don't need to do something to borrow "that" because we all understand that we share the "that" that I initially wanted to borrow.

When citizens move to the cities, this philosophy is brought along. Thus, business partnerships, contracts, or services must be continually nurtured in the form of wining and dining them on the generous corporate accounts. If no effort is put into the relationship, you can't expect to share as much.

So if you get money for a job, from traditional African culture, the idea of exchanging money is sharing not a one-for-one trade of service for money. The follow- through and completion of a job is necessarily tied by cultural belief to a strong business relationship. Thus, the money is given to the paving company who can see it as a gift or sharing; the paving company is further taken care of by the client and for that reason the paving company gives the gift of completing the project well. No products of monies that are owned in totality exchange hands; only favors are exchanged or services or money shared.

Interesting huh?

For more in depth explanation on this phenomenon, checkout Kate's Journal and read, "And the answer is…" concerning heritage and economy. It'll give you a different perspective on how an economy functions. It's about social economy, what I define as an economy based on people and relationships, not the circulation and consumption of things.

Read and enjoy.
The Journeyman in a New World

"If we looked backwards more (or more at people we think are backwards), would the New World define itself by things, by whatever is new?"

While in Livingstone, we had the unexpected experience (well, one of many, many, many unexpected experiences) of meeting a journeyman. The tradition of journeymen dates back to the late medieval ages, when guides were first organized. Communities of skilled craftsmen in the guild monitored the training of their own tradesmen and the products they produced. Guilds were developed for weaving, tapestry, carpentry & cabinet making, merchants, smiths, painting and many other crafts across most of Europe; they were tied to the development of the all-too-familiar 'classe bourgeoise' and, perhaps also to the consumer culture we so firmly (mistakenly?) associate with the 20th century.

Training in the guilds began with apprenticeship, when a young man was offered to a master by his family (in the hopes that he would one day be raking it in as a master, himself). At first, the apprentice was similar to slave labor, but was allowed to see some of the secrets of smelting metal or collecting paint colors; after a few years he might be allowed to participate in some of this work rather than all the housework he would have been doing up to this point. After several years of menial labor, the apprentice would begin to learn the master's craft. In several more years, he would have progressed well enough to produce products up to the guild's rigorous standards. He was ready to graduate to journeyman- which meant he was ready to travel the world for three years carrying only his clothes and the skills in his head and hands.

The journeyman we met and photographed is wearing traditional carpenter's garb- tough (and hot) cloth to withstand puncture and cutting. He must wear these clothes for the entire three years, after which he may wear whatever he wants. He could not use a backpack but only the pack rolls his predecessors had used hundreds of years ago and he could only use the tools he found at hand. His task was to go out and learn about the world, himself and the skills and methods of his comrades in other parts of the world: a centuries-old foreign exchange program to ensure that the guild at home was up-to-date on the latest technology!

The journeyman we met was German; the three years he was required to travel and learn in order to gain admittance to his guild back home made me think quite a bit about the value of preserving such 'traditional' heritage.

I am a product of a culture that is defined by constantly redefining itself and by assuming that culture- what defines the kind of lifestyle you want to participate in- is usually some thing ('thing' as in stuff, consumerism, shopping) that is new, hot, fresh off the press, off the runway, or off the plane from factories in China and newly added to the Pottery Barn or Sharper Image catalog. Or maybe it is 'retro'- but only because that is the latest thing- the latest fad. 'Latest' and 'thing' being the key words, of course. Keep in mind, of course, that much of this stuff must be disposable so that newer stuff can take its place.

After all, the traditions of the American cultural tool belt- foods, music, holiday celebrations- are understood as leftovers from those cultures 'back home' in the Old World (with the possible exception of Thanksgiving and the tradition of Santa Claus, the latter of which just goes back to advertising anyway).

I am not sure I would have made these comments about consumerism being at the heart of American culture- the right to buy and own whatever you want- before having spent a year away from it in a place where consumerism just can't exist in the same way- much less with the same merchandise.

Maybe as a historian I just like seeing traditions kept but I really enjoyed seeing this young German in his strange costume wandering through a backpacker joint somewhere in the middle of central Africa keeping alive a tradition that is older than my country. It seemed genuine and perhaps more in tune with the whole point of travel than the thousands of battery hours, digital photos, and diary pages that were consumed by other travelers that day. Again, I refer to the 'things' and 'consumption' of the other travelers on purpose for the difference was stark.

Unlike the other tourists, the young journeyman was engaging and offering part of himself- his knowledge- with people who shared something of his skills, knowledge and interests and probably none of his 'things'- tools, materials, etc.

That was when I asked myself, if we looked backwards more (or more at people we think are backwards), would the New World define itself by things, by whatever is new?
As I said, I asked myself, if we looked backwards more (or more at people we think are backwards), would the New World define itself by things, by whatever is new?

I asked this question because it has become obvious to me that the availability of stuff is at the heart of the difference between The West and Africa: stuff as in aromatherapy candles as well as stuff as in blood pressure medicine. Quickly, we come to the uninformed observation: look what culture can achieve if it is focused on stuff, on production, on consumption… 'it's the economy, stupid!'

Well, duh.

But what we miss, because the daily price of crude oil on the evening news broadcast too quickly follows the small snip-its of news about violence and corruption on this continent - is what Africa is like outside the towns, the political strongholds, the strategically (and structurally)-adjusted economies.

'So,' you ask, 'show me the goods!'

But I can't. Because there literally isn't anything to show you except people. And maybe livestock or pumpkins and maize on the cob.

But that's the point. People, I mean.

What we miss in commercializing even service is the great number of relationships that can be struck if the monetary transaction does not exist. In Zambia, service in a restaurant can be slow and this is really, really, really frustrating… if you are from the west. But for Zambians, it is a chance to better get to know those around you, living in your community. There is no money exchanged for service so any interest between parties is genuine and that is kind of strange. But it is central to the point. There are a hundreds of times a day when speed and service (for threat of loss of job or for the bribe of a good tip) that communication between strangers is rushed or lost all together. You can buy something in a store in Chicago without a single word being exchanged. In Africa, however, greetings are very important because creating and cultivating social relationships is the whole point of living and every person counts.

That means you can drive to any village, introduce yourself and expect food, accommodation and people to stop what they are doing just to talk to you and participate in your research. Sure, it's a novelty and you feel special… until they stop working with you to greet and visit for an hour or two with the next person to enter the homestead!

As you move into the village, the transactions change. People rarely save money in the bank: it takes too long and costs too much to get there and why horde a currency that could be worth nothing with the next political regime (consider Zimbabwe's average monthly inflation- 1000 percent a month this year).

Instead, people invest in other people. An uncle might invest in his nephew's school fees and later if some of his crops fail, he 'cashes in' on his favor. 'Investing' and 'cashing in' are just applications of financial terminology to cultural values and are certainly inappropriate but they help to highlight the difference. People don't live independently from each other and you can see this the most when finances and basic needs come into play.

To return to the difference in availability of stuff, when people don't really operate independently of one another, they don't consume products that emphasize the same ideals of individual style, flair or that prove you follow the fads, fit in with the hip people or otherwise are part of a particular sub-culture by wearing Nikes or L.L. Bean. Africans already intimately know what sub-culture they belong to. So when they buy things, often it is with a group in mind. Or when they buy things as individuals, they use it differently than we would in the west. For example, I saw a lovely tailored pink and white herringbone lambswool ladies knee length winter coat sported by a 90 year old man. It was funny but it was also a really good quality coat.

For Africans time, money and effort just isn't wasted on buying stuff. Or when stuff is bought, it is given as a gift with the knowledge that next time it will be your turn. The gift, of course, is just another representation of your social circle- how many people care about you.

So, what we miss by buying ourselves a lot of stuff is spending time with other people and helping them whilst knowing that it will come back to us next time.

I am not sure that I am ready to give up fast restaurant service when I am really hungry and cranky but I do know that being in a place where there just isn't a lot of stuff teaches you a new way to value things and people and how people make connections with each other through things, rather than just keeping stuff for themselves. This is both a continuation of some cultural ideas as well as the product of poverty. And don't get me wrong: there are certainly some Africans who want nothing more than a pair of Nikes but perhaps not to keep in the long term.

'It's the social economy, stupid.'



The rate at which things get done in Zambia.
5/24. New Photos have been uploaded photos on www.dropshots.com/delunasinafrica.


Sandboard baby! Sandboard! Enjoy our photos from our holiday on the coast with our friends George and Lily.
Search This Site

Syndicate this blog site

Powered by BlogEasy


Free Blog Hosting